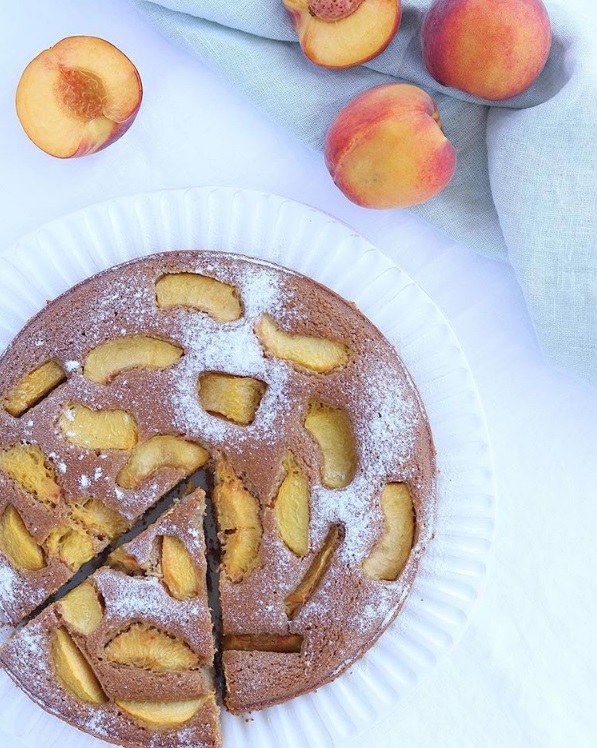 Prep Time: 20 minutes
Cook Time: 45 minutes
Servings: 8
Ingredients:
1½ cup whole wheat flour
1 cup almond flour
1 cup coconut sugar
½ teaspoon baking powder
½ teaspoon baking soda
¼ teaspoon salt
1/2 tsp ginger
1/2 tsp cinnamon
3 eggs
¼ cup olive oil
¼ cup maple syrup
1 cup unsweetened almond milk
3 peaches – peeled and thinly sliced
Organic powdered sugar – enough for the topping
Direction:
Preheat the oven to 350 ° Fahrenheit. Grease sides and bottom of a 9-inch spring-form cake pan with cooking oil. Line the bottom of the pan with parchment paper and make sure to grease the top of parchment as well.
In a medium bowl, combine the whole wheat flour, almond flour, coconut sugar, baking powder, baking soda, salt and spices.
In a small bowl, whisk the 3 eggs with olive oil, maple syrup, and almond milk.
Gradually add liquid mixture to the dry ingredients and mix until there are no lumps.
Pour the batter into prepared pan. Arrange peach slices on top of batter in a single even layer with a little space between each. Sprinkle with extra coconut sugar, ginger and cinnamon if desired.
Place the cake pan in the oven and bake for about 40-45 minutes, or until toothpick or fork come out clean and the middle is set. Cool the cake on wire rack for 30 minutes before serving.
When cool, carefully remove side of pan. Serve with a sprinkle of powdered sugar and maybe a scoop of coconut whip cream.
Favourite Holiday Recipes - YOYOMAMA said: "[…] Gingerbread Granola by Karlene Karst Did you try Karlene's delicious chocolate protein bites? It's an awesome recipe she shared with YOYOMAMA and we are digging it. We are also digging this tasty gingerbread granola. The best part? You can make it up to two weeks in advance. Breakfast over the holidays has now been sorted! Get the recipe on Karlene's website. […]".