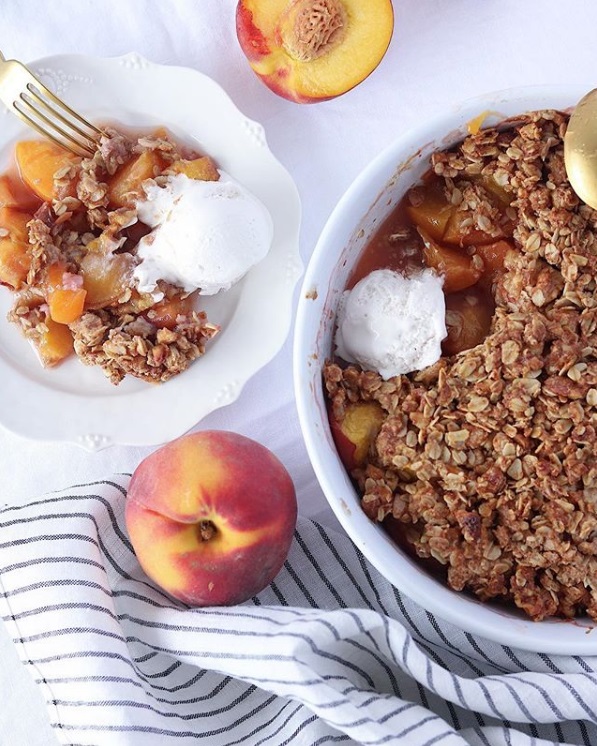 Prep Time: 25 min
Cook Time: 34 min
Servings: 4-6 servings
Ingredients:
5 ripe peaches – pitted and sliced into 1/3 inch pieces
1 cup rolled oats
½ cup spelt flour
½ cup walnuts – roughly chopped
4 tablespoons coconut oil + more for the bottom of the pan
1 tablespoon of coconut sugar
¼ cup maple syrup
¼ teaspoon cinnamon
Pinch of sea salt
Directions:
Preheat oven to 350 degrees F and lightly coat an 8×8-baking dish with coconut oil.
Spread out the peaches in an even layer in the bottom of the baking dish and set aside.
In a medium bowl combine the rolled oats, spelt four, walnuts, coconut oil, coconut sugar, maple syrup, cinnamon, and salt. Using a wooden spoon mix all the ingredients until evenly distributed.
Add the crumble mixture to the top of the fruit in an even layer and bake for 40-45 minutes, or until the fruit is bubbling and the top is crisp and golden.
Remove the cobbler from the oven, and set aside for 10 minutes before serving.
Serve with vanilla ice cream, chia seed jam, or whatever you heart desires!