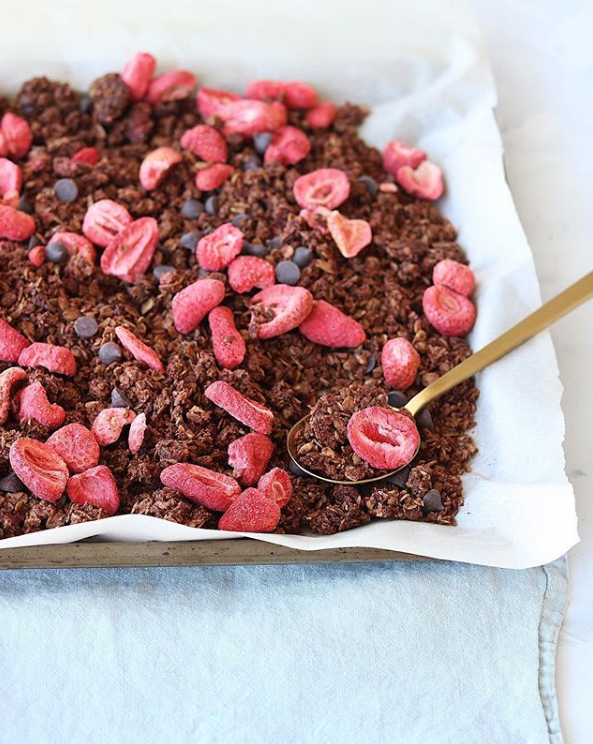 Prep Time: 15 min
Cook Time: 20 min
Servings: 10 

Ingredients:
3 cups rolled oats

½ cup flax seeds




½ cup unsweetened shredded coconut




¼ cup cacao powder




¼ cup coconut sugar




2 teaspoons vanilla extract




½ teaspoon sea salt




½ cup maple syrup

¼ cup melted coconut oil

½ cup dark chocolate chips
1 cup freeze-dried strawberries
Direction: 

Preheat the oven to 350°F. Line a baking tray with parchment paper and set aside. 




Add the oats, flax seeds, shredded coconut, cacao powder, coconut sugar, vanilla and sea salt into a food processor. Pulse a few times to combine and breakdown the oats. 




Mix the maple syrup with the melted coconut oil and pour over the dry ingredients. Stir to combine.




Spread the mixture evenly over onto the baking sheet. Bake for 20 minutes, stirring halfway through to ensure even baking. 




Once cooked completely, add the chocolate chips and freeze-dried strawberries. 




Store in an airtight container for up to 2 weeks.
THE REAL FOOD FRIDGE - Natures Fare said: "[…] Learn more health and wellness tips from Karlene Karst. […]".