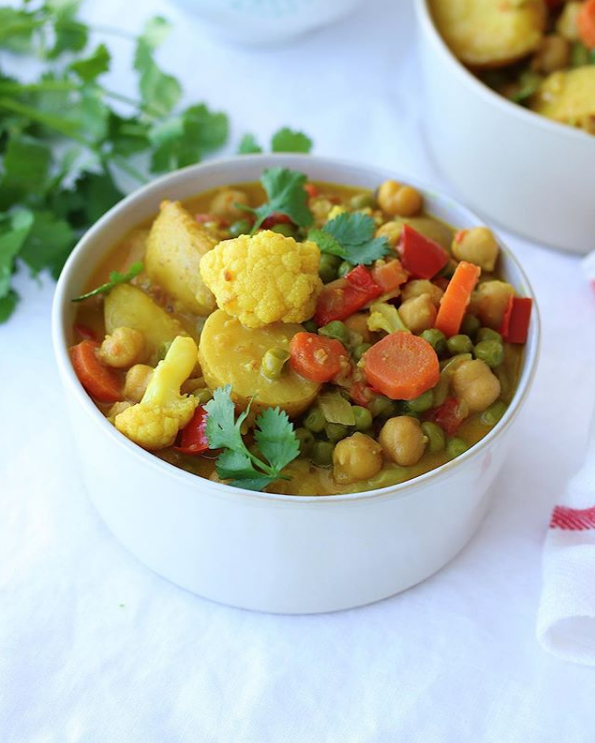 When you are trying to clear out your fridge/pantry + have given up meat until after Easter…veggie soups, curries and salads are on repeat!? This veggie chickpea curry will warm you up from the inside out (since it's still full of grounding spices like turmeric and curry powder), and is so so satisfying (thank you chickpeas).!! And my kids love curry…high fives all around (although they each like different veggies so will sort through this type of dish, haha)! Enjoy my friends!
Prep Time: 15 min
Cook Time: 40 min
Servings: 4 Entrée Servings
Ingredients:
2 tablespoons coconut oil
1 medium onion – diced
2 cloves garlic – minced
2 cups fresh potatoes – washed and sliced in halves
2 medium carrots – sliced
1 cup cauliflower florets
1 medium red pepper – diced
1 tablespoon sweet curry powder
½ teaspoon turmeric powder
¼ teaspoon cumin powder
1 teaspoon salt
1 14-ounce can garbanzo beans – washed and drained
1 cup frozen green peas – thawed
1 14-ounce can full-fat coconut milk
¼ cup filtered water
Direction:
Heat a medium pot on medium-high heat. Add the coconut oil. Once heated, sauté the onions for 4 minutes or until soften.
Add the garlic and sauté for 1 additional minute.
Add the potatoes and cook them for 10 minutes, mixing occasionally.
Add the carrots, cauliflower florets, red peppers, curry powder, turmeric powder, cumin and salt. Mix and cook for 5 minutes.
Add the green peas and garbanzo beans along with the coconut milk and water.
Cover the pot and bring the curry to a boil.
Lower the heat and cook for 15 minutes covered.
Serve hot with a side of brown rice.
THE REAL FOOD FRIDGE - Natures Fare said: "[…] Learn more health and wellness tips from Karlene Karst. […]".