About Karlene Karst
As a nutritionist, I have seen many concepts about food and nutrition come and go. Above all, fats have been the most misunderstood, criticized, and challenged. When I was studying nutrition in the mid-1990s, fat was evil: saturated fat caused heart disease, coconut oil would increase your cholesterol, and butter would clog your arteries. As a young, and inexperienced student of nutrition, I followed this diet trend quite seriously, eating low-fat or fat-free everything, but instead a plethora of carbohydrates; I can honestly say I was never more unhealthy than I was at that time in my life.
In my early twenties I was diagnosed with an autoimmune disease called mixed connective tissue disease that presents as a combination of lupus-like and rheumatoid arthritis symptoms, which left me fatigued and feeling pretty awful. The rheumatologist's prescription was a drug called Plaquenil, and I spent more time visiting specialists in an effort to be proactive and avoid all the negative side-effects from the drug, such as lung, kidney, and vision problems.I was also an avid Advil user, but the side effects are varied and can be quite serious.
The gift from the pain was that my autoimmune disease led me down a phenomenal path of healing with nature and food. I started to research natural anti-inflammatory ingredients and came across some amazing research on borage oil, which is rich in GLA, an anti-inflammatory omega-6 fatty acid.
This was the first dietary supplement I ever used, and almost fifteen years later, I am still using it daily. I also include 3,000 mg of omega-3 from Sea-licious fish oil, probiotics, vitamin D, B vitamins, curcumin, and greens. All of these nutrients, along with regular physical activity, have greatly helped manage the pain and inflammation that comes with an autoimmune disease, not to mention numerous other benefits for my skin, hair, nails, and hormones.
My journey has also been one of many food and lifestyle changes over the years, from decreasing sugar in my diet and focusing on more fiber and whole foods to increasing protein and omega-3s from fish. I believe all of these changes together allow me to be the person of health that I am today.
I have experience firsthand, what an incredible turn around in healing, my body experienced as a result of incorporating healthy fats from fish and plant oils. My love for healthy omega oils has continued to grow and lead me to researching, studying, writing, formulating and developing Sea-licious and other omega oils.
ABOUT SEA-LICIOUS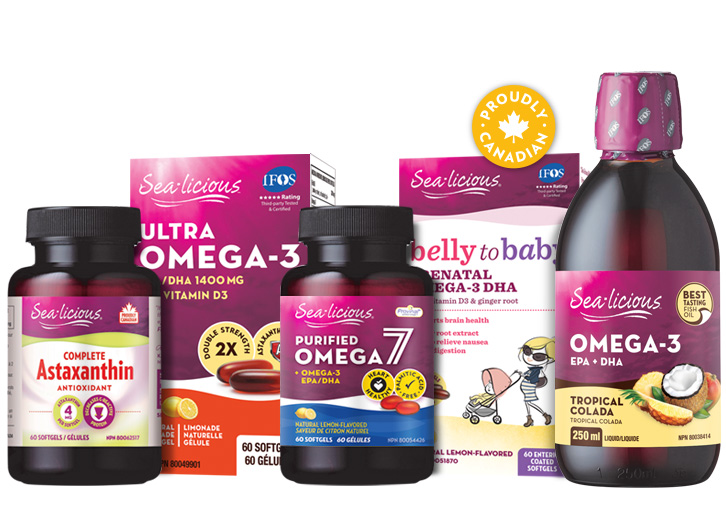 A family story
Healthy living, nutrition, family, friendships, balance and a passion for life are the inspirations behind the development of Sea-licious omega oils. A family-owned company, Karlene started Sea-licious with her husband, a renowned naturopathic physician, while raising their three children.
Sea-licious prides itself on being a 5-star IFOS-certified omega-3 oil, the highest quality fish oil on the market. It is produced exclusively from body oils of small fish harvested from the coasts of Chile and Peru. These oils are not only naturally cleaner, but they also have the highest natural ratio of omega-3s, EPA and DHA.
"Getting people to enjoy the taste and texture of fish oils was one of the biggest hurdles to overcome when creating Sea-licious. We started with the highest-quality fish oil sourced from sardines, anchovies, and mackerel and then flavored it with innovative, all-natural fruit flavors and the natural sweetener, monk fruit. The result is an omega product that every member of the family will look forward to taking."
To learn more, visit sealicious.ca