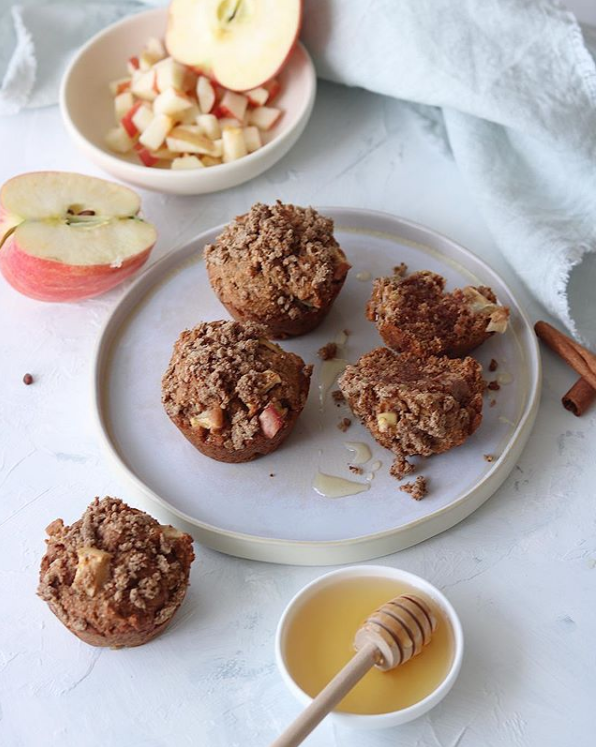 Ingredients:
Muffins:
1 cup whole wheat flour
1 cup spelt flour
1/2 tsp baking sofa
1 tsp baking powder
1/2 tsp salt
1 tsp cinnamon
1 egg
1 cup apple sauce
1/2 cup maple syrup
1/2 cup melted coconut oil
1 tsp vanilla
1 cup apples chopped into small pieces
Crumble topping:
2 tbsp almond flour
1/4 cup coconut sugar
1/2 tsp cinnamon
1 tbsp unsalted butter
Directions:
Preheat oven to 350. Grease a muffin pan and set aside.
In a large bowl stir together the flour, baking powder, baking soda, salt and cinnamon.
In another bowl beat egg and mix in remaining ingredients for the muffins, except the chopped apple.
Pour wet ingredients into the dry ingredients and stir just until combined. Gently stir in apples.
Spoon mixture into prepared muffin pan dividing batter equally.
In a small bowl combine sugar, cinnamon and almond flour. Cut in the butter with a fork or pastry blender until it looks like coarse crumb. Sprinkle crumbs over batter in muffin tin.
Bake muffins 17-20 min or until toothpick inserted comes out clean. Let muffins sit in pan before removing to cool completely. Enjoy!
THE REAL FOOD FRIDGE - Natures Fare said: "[…] Learn more health and wellness tips from Karlene Karst. […]".