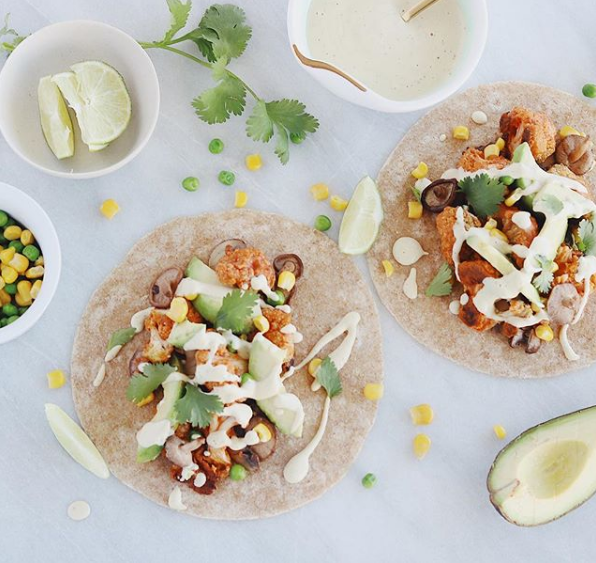 Servings: 6+ Tacos 
Ingredients: 

Buffalo Cauliflower
1 head of medium cauliflower – cut into florets




2 cups of oat flour




1 tablespoon garlic powder




1 teaspoon salt




½ teaspoon black pepper




1 ½ cup almond milk




1 cup buffalo hot sauce 
Cashew Sauce (if I'm pressed for time during the week I skip the sauce and just do a quick guacamole or mashed avocado)

1 cup cashews – soaked for 1 hour




2 garlic cloves




3 tablespoons nutritional yeast




Juice of one medium lemon




½ teaspoon salt




¼ cup water

¾ cup full fat coconut milk 



Fillings & base

6 corn/whole wheat tortillas




Sauteed mushrooms




Corn




Peas




Avocado




Lime juice 



Directions: 
Preheat oven to 450 ° F. Line a baking sheet with parchment paper and set aside. 

Prepare the batter for the cauliflower by combining the almond milk, oat flour, and seasonings in a medium bowl (except the buffalo sauce). Mix until batter is combined.




Dip the cauliflower in the batter, shaking off the excess batter before placing the cauliflower on the baking sheet. Lay the cauliflower in a single layer on the baking sheet.




Bake for 25-30 minutes until golden brown.




While the cauliflower is baking combine all the sauce ingredients in a blender and blend until smooth. Set aside!




When the cauliflower is ready, remove it from the baking pan and toss it in the buffalo hot sauce mixture.




Heat each corn tortilla in a skillet and fill it in with the buffalo cauliflower, your choice of fillings, and cashew sauce. 

Enjoy!
THE REAL FOOD FRIDGE - Natures Fare said: "[…] Learn more health and wellness tips from Karlene Karst. […]".