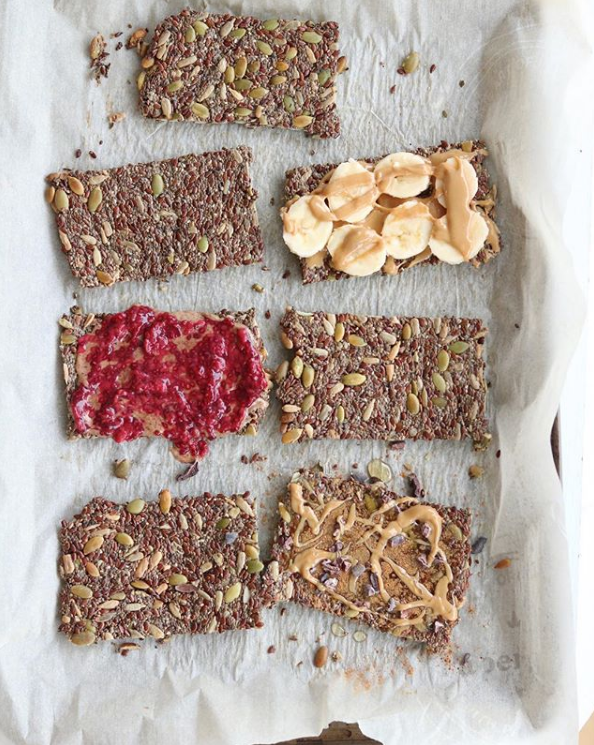 Prep Time: 20 min
Cook Time: 50 min
Servings: 15-20 large crackers
Ingredients:
½ cup flax seeds
½ cup chia seeds
½ cup sunflower seeds
½ cup pumpkin seeds
1 cup water
½ teaspoon sea salt
Direction:
Preheat oven to 350° F. Line a baking sheet with parchment paper and oil with cooking oil. Set aside!
In a large bowl mix all the ingredients.
Set aside for 10 minutes to allow the mixture to absorb the water and become thick.
Spread mixture out, pressing until the sheet is less than 1/4 inch thick.
Bake for 30 minutes. Remove from oven and slice into desired cracker size.
Carefully turn the crackers over and put them back in the oven for an additional 20 minutes.
Store in an airtight container. They can stay fresh for up to a week.
Note: to make the crackers savory, add one tablespoon of your favourite spice mix in to the mixture. (Ex: cayenne, basil, oregano, black pepper, garlic, and onion)
THE REAL FOOD FRIDGE - Natures Fare said: "[…] Learn more health and wellness tips from Karlene Karst. […]".