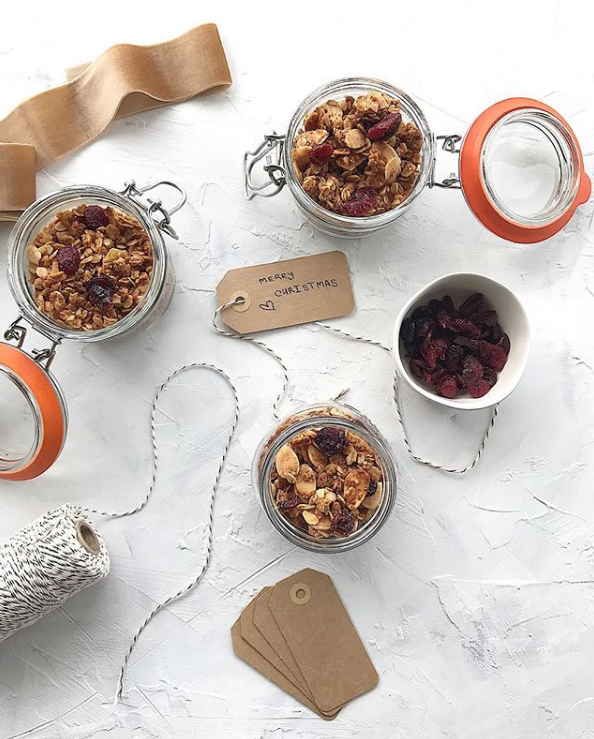 Prep Time: 10 minutes
Cook Time: 20 minutes
Serving: 6 (about half cup per serving)
Ingredients:
2 cups rolled oats
1 cup almond flour
1/2 slivered almonds
1 teaspoon cinnamon
1/2 teaspoon ground ginger
1/4 teaspoon Himalayan pink salt
1/4 teaspoon cardamom
1 teaspoon vanilla extract
1/4 cup melted coconut oil
1/3 maple syrup
1/2 cup dried cranberries
Direction:
Preheat oven to 325 F. Line a baking sheet with parchment paper and set aside.
In a large bowl mix together the rolled oats, almond flour, slivered almonds, cinnamon, ginger, salt, cardamom, vanilla extract, coconut oil, and maple syrup.
Spread the mixture evenly onto a large baking sheet and bake for 18 – 20 minutes. Stir near the halfway point to ensure even cooking.
Remove from the oven and allow to cool completely before adding dried cranberries.
Store in an airtight container for up to 2 weeks.
Favourite Holiday Recipes - YOYOMAMA said: "[…] Gingerbread Granola by Karlene Karst Did you try Karlene's delicious chocolate protein bites? It's an awesome recipe she shared with YOYOMAMA and we are digging it. We are also digging this tasty gingerbread granola. The best part? You can make it up to two weeks in advance. Breakfast over the holidays has now been sorted! Get the recipe on Karlene's website. […]".