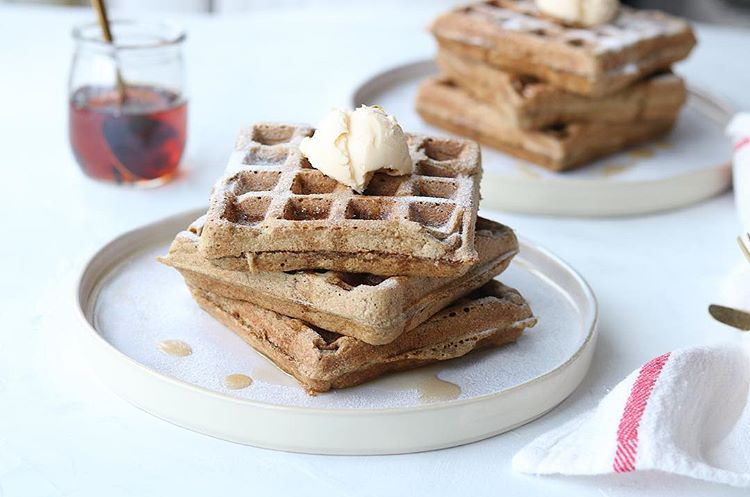 Prep Time: 15 minutes
Cook Time: 15 minutes approximately
Servings: 6-7 waffles
Ingredients:
1 cup whole wheat flour
1 cup spelt flour
2 tablespoons coconut sugar
2 teaspoon baking powder
½ teaspoon baking soda
1 teaspoon ground nutmeg
¼ teaspoon cinnamon
Pinch of sea salt
2 large organic eggs
2 tablespoons melted coconut oil – cooled off
1 ½ cup eggnog (I use the @sodelicious_ca Coconut eggnog)
1 teaspoon vanilla extract ​​​​
Direction:
Preheat your waffle maker according to its instructions.
In a large bowl mix the whole-wheat flour, spelt flour, coconut sugar, baking powder, baking soda, nutmeg, cinnamon, and salt.
In a medium bowl whisk the eggs, eggnog, and vanilla extract until frothy. Add the melted coconut oil and mix.
Stir the wet mixture into the flour mixture until a thick batter forms.
Pour the right amount of batter in to your waffle maker; cook until golden brown on both sides, approximately 4 minutes.
Serve hot with a dollop of whipped butter, powdered sugar, and maple syrup.
THE REAL FOOD FRIDGE - Natures Fare said: "[…] Learn more health and wellness tips from Karlene Karst. […]".