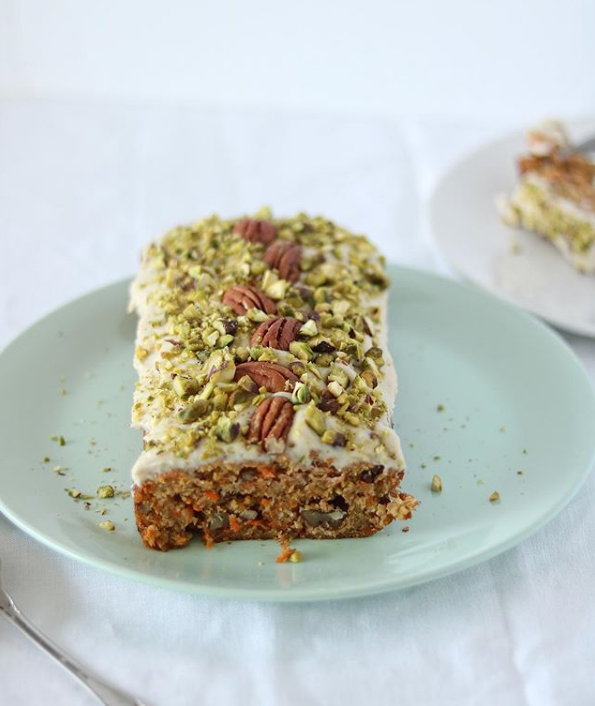 Servings: 8 slices
Ingredients:
1 and 1/2 cups spelt flour
2 teaspoons baking powder
1/2 teaspoon baking soda
1/2 teaspoon salt
1/2 teaspoon ginger powder
1/4 cup shredded unsweetened coconut
1 and 1/2 cup shredded carrots (about 4 large carrots)
1 egg
1/2 cup apple sauce, unsweetened
1/4 cup unrefined coconut oil
1/2 cup pure maple syrup
2 teaspoons vanilla extract
1/2 cup almond or coconut milk
1/4 cup chopped pecans
CASHEW FROSTING
 1 cup raw cashews, soaked
Juice of 1 lemon (about 1/4 cup)
2 tablespoons honey
3 tablespoons almond milk
1 teaspoons vanilla extract
Pinch of salt
Direction:
 Preheat the oven to 350°F then lightly grease a loaf pan.
 In a large bowl, combine the spelt flour, baking powder, baking soda, salt, ginger, and coconut. Add the shredded carrots to the bowl without stirring, and set aside.
 In a medium bowl combine the egg, applesauce, maple syrup, melted coconut oil, vanilla extract, and coconut/almond milk. Combine and try to get it as smooth as possible.
 Pour the wet ingredients into the bowl with the dry. Stir everything together just until combined. Transfer the batter to the loaf pan and bake in the preheated oven for 35-40 minutes or until the toothpick comes out clean.
 Meanwhile make the icing by combining all of the ingredients in a high-speed blender and blend until smooth. Add additional almond milk in order to thin out the frosting and adjust the sweetness as desired.
 Allow the loaf to cool for at least an hour. Once cool, spoon the frosting on top. Sprinkle with chopped pistachio and walnuts, and enjoy!
THE REAL FOOD FRIDGE - Natures Fare said: "[…] Learn more health and wellness tips from Karlene Karst. […]".