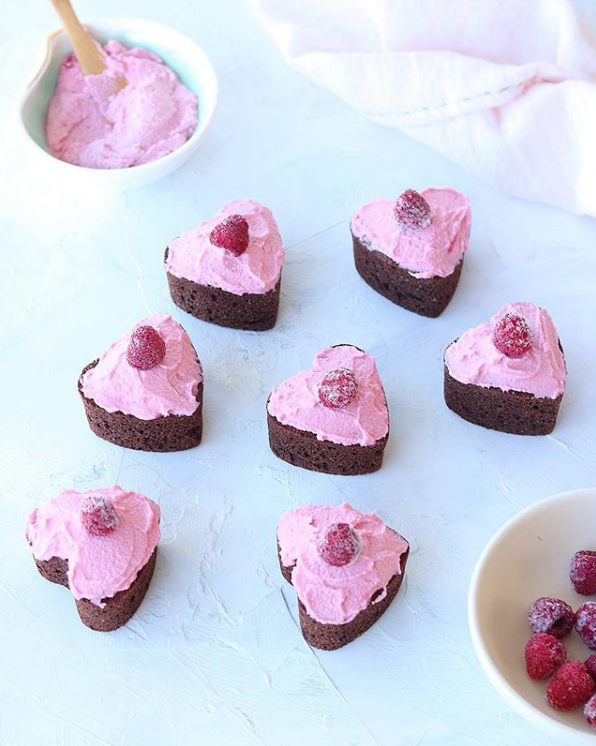 Prep Time: 20 minutes
Cook Time: 16 minutes
Servings: 8 muffins 

Ingredients: 

CUPCAKES:

½ cup coconut flour




¼ cup cacao powder




2 tablespoons coconut sugar




¼ teaspoon baking soda




¼ teaspoon sea salt




4 organic eggs




½ cup melted coconut oil




1/3 cup maple syrup




1 teaspoon vanilla extract 



COCONUT FROSTING:

1 can full fat coconut milk – kept in the fridge over night




1 teaspoon vanilla extract




1 tablespoon maple syrup




¼ teaspoon beet root powder or pomegranate powder




Pinch of sea salt




Frozen raspberry – for topping 



Direction: 

CUPCAKES:

Preheat oven to 350° F. Spray a heart shaped muffin tray or any other muffin tray with oil and set aside.

In a medium bowl mix the coconut flour, cacao powder, baking soda, baking soda, and salt

Beat the eggs in a small bowl until fluffy. Add the maple syrup, coconut oil, and vanilla extract

Transfer the egg mixture into the dry ingredients bowl and mix. Scoop out the batter into your muffin tray (3/4 full) and bake for 14-16 minutes (at 14 minutes insert a tooth pick in the middle of a muffin, and if comes out clean then the muffins are ready (a few crumbs on the toothpick is no big deal)
COCONUT FROSTING:
Meanwhile open the can of coconut milk, remove the thick and solid part on top, and transfer it to a mixing bowl.




Using a hand-held mixer, whip the coconut milk for 40 seconds. Start on low for the first 10 second then go to high. The texture will be smooth and creamy.




Add the remaining ingredients (vanilla extract, maple syrup, beet root powder, and sea salt).  Mix for another 10 second and transfer the frosting to the freezer for 10 minutes. Then back to the fridge until you are ready to frost your muffins.

Serve and enjoy!
THE REAL FOOD FRIDGE - Natures Fare said: "[…] Learn more health and wellness tips from Karlene Karst. […]".