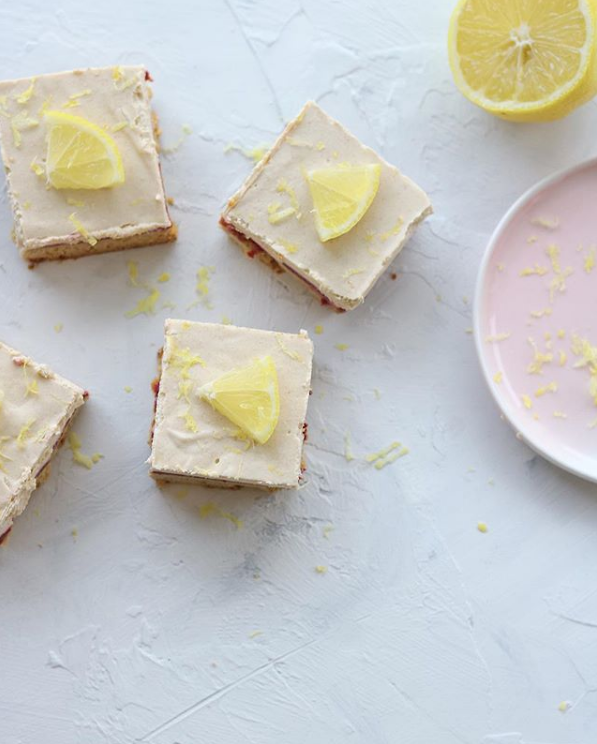 Vegan, Gluten-Free 

Ingredients: 
CRUST

1 cup oat flour




1 cup almond flour




¼ cup melted coconut oil




¼ maple syrup




¼ teaspoon sea salt 



MIDDLE FILLING

½ cup raspberry chia jam – see recipe on previous posts 



TOP FILLING

1 cup cashews – soaked overnight or at least 4 hours




1 cup coconut cream – the firm part at the top of a full-fat coconut milk




½ cup fresh lemon juice

2 tablespoon lemon zest (you can also add a few drops of lemon essential oil)




3 pitted medjool dates




2 tablespoons maple syrup




2 tablespoons coconut butter




1 teaspoon vanilla extracts




¼ teaspoon sea salt 



TO GARNISH

Direction: 

Preheat oven to 350° F. Line an 8×8 inch baking dish with parchment paper and set aside.




In a medium bowl mix together the oat flour, almond flour, melted coconut oil, maple syrup, and sea salt. Combine until loose dough is formed. At this point if the mixture is too dry and crumbly add a bit more coconut oil.




Transfer the crust mixture to your prepared baking dish and spread evenly in the bottom of the dish.




Bake for 25 minutes, until the edges are golden brown.




Remove from the oven to cool.




Meanwhile drain and rinse the soaked cashews, add to a high speed blender with coconut cream, lemon juice, lemon zest, dates, maple syrup, coconut butter, vanilla extract, and salt. Mix on high until very smooth and creamy.  

You can adjust the flavor. If you want a more lemony taste add a little bit more lemon zest and blend again.




Once the crust is completely cooled, add the raspberry chia jam over and spread it into an even layer.




Now add your filling and spread evenly.




Refrigerate for 8 hours or over night.




When serving slice in to squares and serve with lemon zest.
THE REAL FOOD FRIDGE - Natures Fare said: "[…] Learn more health and wellness tips from Karlene Karst. […]".