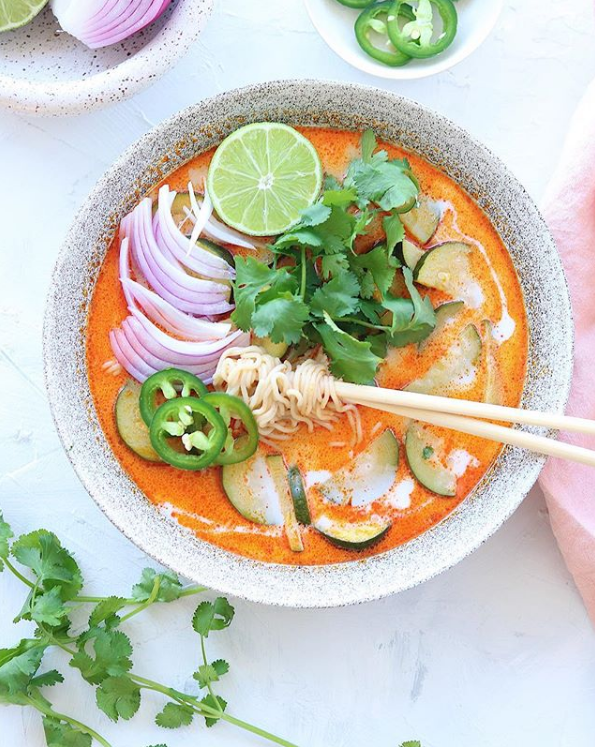 Prep Time: 10 min
Cook Time: 20 min
Servings: 3 (Entrée serving)
Ingredients:
2 Tablespoons avocado oil
2 garlic cloves – minced
1 tablespoon fresh grated ginger
2 tablespoons Thai red curry paste
1 medium sweet potato – diced
2 medium zucchinis – cut in halves lengthwise, then sliced
3 cups vegetable broth
1 14-ounce full fat coconut milk
1 tablespoon coconut sugar
½ teaspoon salt
¼ teaspoon cayenne pepper
3 servings of vermicelli noodles
Toppings:
½ red onion – sliced
2 limes – cut in to wedges
Handful of cilantro
Direction:
In a medium pot heat the avocado oil. Sauté the garlic, ginger and curry paste for 2 minutes over medium heat.
Add the diced sweet potatoes along with the vegetable broth and bring to a boil. Reduce the heat to medium-low and let simmer for 7 minutes until the sweet potatoes are tender.
Meanwhile cook the vermicelli noodles as the package instructions and set aside.
Once the sweet potatoes are tender add the coconut milk, coconut sugar, and salt. Stir and adjust the seasoning if needed. Heat for a few more minutes.​
To serve divide the noodled between 3 bowls. Ladle the soup and the vegetables between 3 bowls, top with onion, cilantro, and lemon wedges.
THE REAL FOOD FRIDGE - Natures Fare said: "[…] Learn more health and wellness tips from Karlene Karst. […]".