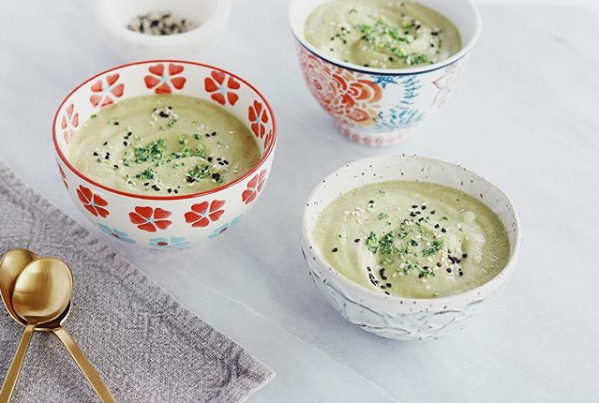 Servings: 4-5

Ingredients:
4 tablespoons avocado oil

1 medium onion – diced

4 cloves of garlic – minced

2 stalks of celery – sliced

2 large carrots – sliced

1 medium head of broccoli – roughly chopped

5 cups vegetable broth

1 teaspoon salt

¼ teaspoon black pepper

½ cup raw cashews – soaked for 2 hours

1 tablespoon of nutritional yeast

Directions:
1. Add the avocado oil to a large pot over medium to high heat. Once hot, add onion and sauté for about three minutes. Add celery and carrots and sauté for another five minutes. Add garlic and broccoli and sauté for another five minutes.
2. Add 5 cups water, then salt, and pepper. Stir and bring mixture to a boil. Once boiling, reduce heat to low and simmer, covered, for 5 minutes.
3. Once ready, remove from heat and let it cool down.
4. Using a high-speed blender add the soup mixture to the blender along with the soaked cashew, nutritional yeast, salt, and pepper (you might have to this this in 2 batches, depending on the size of you blender).
5. Blend until very smooth and creamy.
6. Season to taste with additional salt and pepper if desired. You may also thin out the soup by adding more water (¼ of a cup at a time).
7. Transfer the soup back into the pot, reheat, and serve with chopped parsley and sesame seeds. Enjoy!
THE REAL FOOD FRIDGE - Natures Fare said: "[…] Learn more health and wellness tips from Karlene Karst. […]".