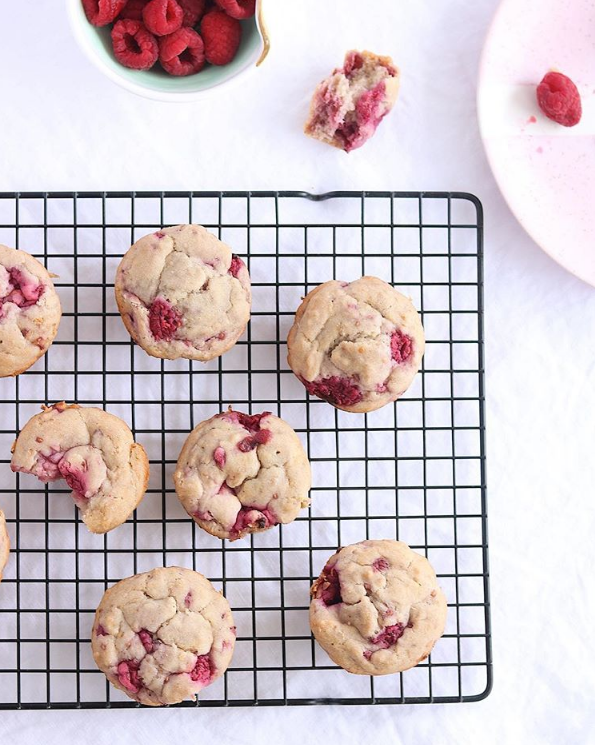 Servings:
Ingredients:
1 ½ cup Bob's Red Mill Gluten Free flour blend
1 ½ teaspoon baking powder
½ teaspoon baking soda
2 tablespoons flax seeds + 6 tablespoons warm water – for flax eggs
¼ cup melted coconut oil
¾ cup honey – the runny kind
⅓ cup apple sauce
¾ cup coconut milk
1 cup frozen raspberries – may also use fresh raspberries
Direction:
Preheat oven to 350 ° F. Spray a muffin pan with coconut oil and set aside.
In a medium bowl mix the flax seeds with water and set aside for 10 minutes.
In a large bowl, combine the dry ingredients: flour, baking powder, and baking soda.
Once the flax eggs are ready, in the same bowl add the melted coconut oil, honey, applesauce, coconut milk and stir to combine.
Pour in the liquid mixture into the dry ingredients and mix gently to combine the ingredients well.
Stir in the raspberries.
Pour into a muffin pan about 3/4 full.
Bake for 30-35 minutes at 350°F or until the top is slightly golden.
Remove from the oven and allow to cool in the pan for 20 minutes.
Gently remove the muffins from the pan and transfer to a cooling rack for another 5 minutes before serving.
*You could replace the raspberries with blueberries or blackberries*
THE REAL FOOD FRIDGE - Natures Fare said: "[…] Learn more health and wellness tips from Karlene Karst. […]".