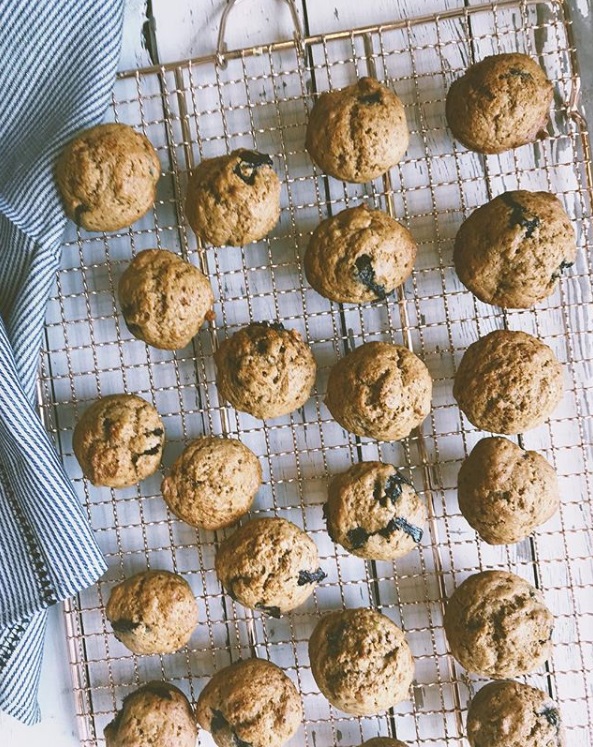 Servings: 24 mini muffins or 12 regular muffins
Dry Ingredients:
1 cup sprouted spelt flour (@anitasorganic)
3/4 cup all purpose flour (@anitasorganic)
3/4 cup coconut sugar
1/2 tsp salt
2 tsp baking powder
Wet Ingredients:
1 mashed banana
3/4 cup almond milk
1/3 cup melted coconut oil
1 egg, beaten
1/2-1 cup blueberries (add at end)
Directions:
Mix wet ingredients together
Add to dry ingredients and mix until just combined
Fold in 1/2 cup to 1 cup fresh or frozen blueberries
Using an ice cream scooper, fill muffin tins 2/3 full
Bake at 400°F for 15-17 minutes
Favourite Holiday Recipes - YOYOMAMA said: "[…] Gingerbread Granola by Karlene Karst Did you try Karlene's delicious chocolate protein bites? It's an awesome recipe she shared with YOYOMAMA and we are digging it. We are also digging this tasty gingerbread granola. The best part? You can make it up to two weeks in advance. Breakfast over the holidays has now been sorted! Get the recipe on Karlene's website. […]".