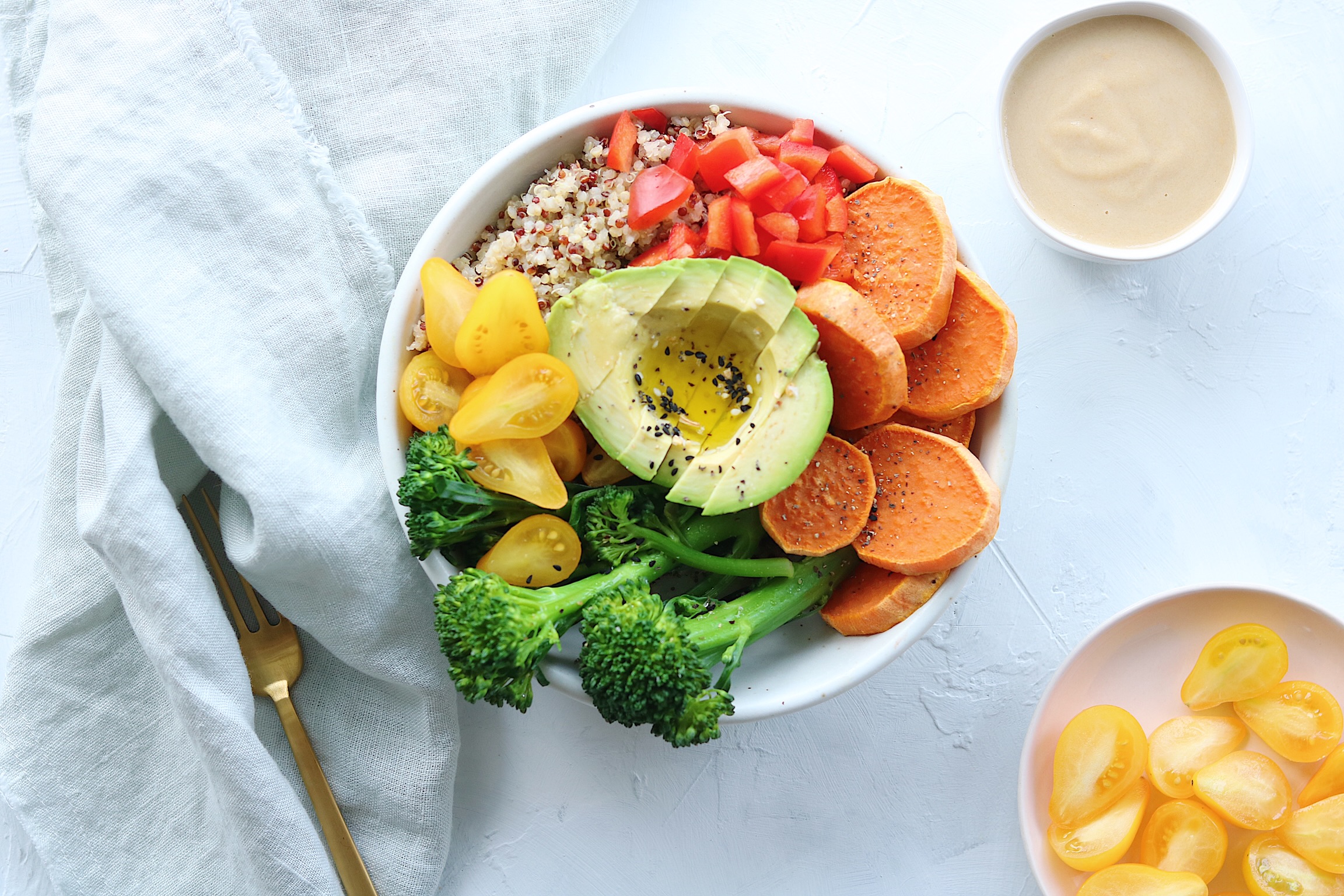 Prep Time: 30 min
Cook Time: 40 min
Servings: 2
Ingredients:
Baked Sweet Potatoes
2 medium sweet potatoes
3 tablespoons olive oil
½ teaspoon salt
¼ teaspoon pepper
Sauté Broccolini
2 tablespoons olive oil
1 bundle of broccolini – ends trimmed
Tahini Dressing
¼ cup tahini
1 tablespoon nutritional yeast
1 tablespoon maple syrup
Juice of one small lemon
1 tablespoon maple syrup
¼ teaspoon salt
Other Ingredients
2 cups cooked quinoa
1 medium red bell pepper – chopped
1 cup baby tomatoes – halved
1 avocado – halved, skin removed, and sliced
Sesame seeds – to garnish
Direction:
Preheat oven to 400° F. Line a baking sheet with parchment paper and set aside.
Wash and peel the sweet potatoes and slice them to a thickness of ½ inch.
Place the sweet potatoes on the baking sheet and drizzle with olive oil, salt, and pepper. Bake for 40 minutes, ensuring to flip them over after 30 minutes.
While the sweet potatoes are baking, heat a medium frying pan over medium heat. Once the pan is hot, heat the olive oil and add the broccolini. Sauté for 5-7 minutes, or until they are bright green and tender. Remove from heat and set aside.
Add all the ingredients for the dressing into a mason jar, cover with the lid, and shake vigorously to mix.
To assemble the bowl start by filing up the bottom of the bowl with quinoa, next top with the sweet potatoes, chopped bell peppers, baby tomatoes, and sliced avocados. Drizzle the dressing over the top and garnish with sesame seeds. Devour and enjoy every bite!
THE REAL FOOD FRIDGE - Natures Fare said: "[…] Learn more health and wellness tips from Karlene Karst. […]".