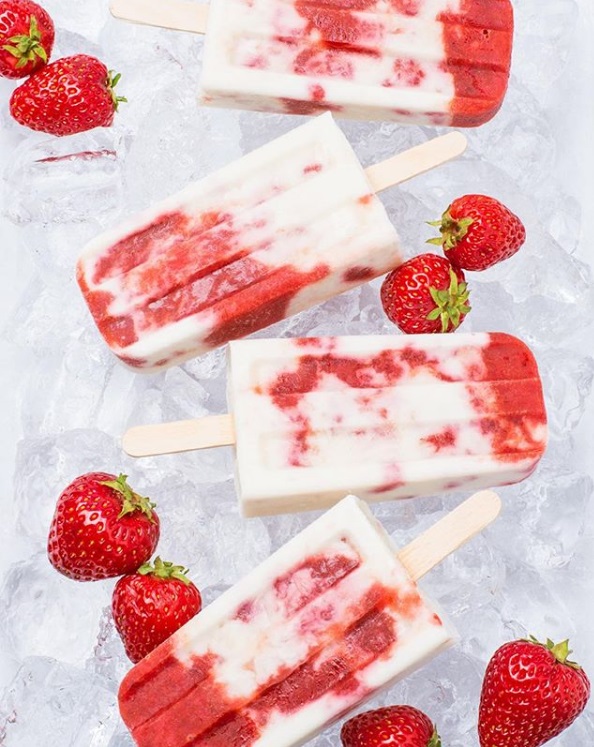 Servings: Makes 10 popsicles
Ingredients:
1 lb strawberries, hulled and halved
5 tbsp maple syrup or coconut nectar, divided
1 tbsp lemon juice
1 to 2 tbsp Sea-licious Natural Maple
1 ½ cups coconut milk
1 ½ tsp vanilla extract
Directions:
In a medium saucepan stir together strawberries and 3 tablespoons maple syrup over medium heat. Cook, stirring occasionally, until soft and have released some juice, about 5 minutes.
Remove from heat and stir in lemon juice. Set aside and allow cool to room temperature.
Meanwhile, in a bowl or large measuring cup, whisk together coconut milk, remaining 2 tablespoons maple syrup and vanilla extract.
Once strawberry mixture has cooled, stir in Sea-licious Natural Maple Flavour before mashing mixture with a potato masher or a fork. Mixture should be well combined but still a bit chunky, with small bits of fruit throughout.
Spoon a tablespoon of strawberry mixture into bottom of popsicle molds. Top with some of the cream mixture and continue layering until molds are evenly filled. Freeze for 30 minutes before placing a popsicle stick in center of each mold.
Continue freezing popsicles until set, at least 4 hours. Unmold popsicles and enjoy.
Credits: @sea_licious and @petitephotography_
THE REAL FOOD FRIDGE - Natures Fare said: "[…] Learn more health and wellness tips from Karlene Karst. […]".