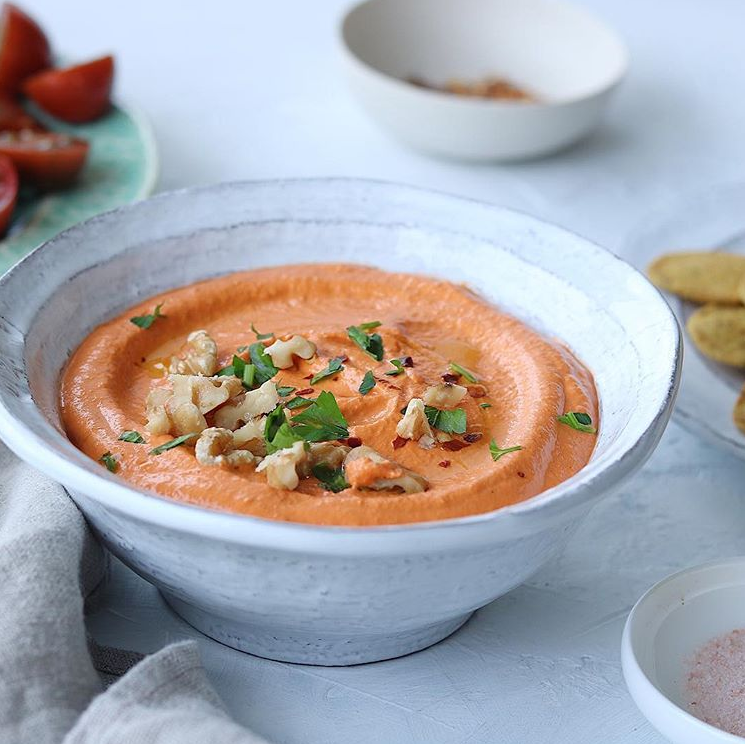 Prep Time: 55 min
Cook Time: 40 min
Servings: 2 cups
Ingredients:
2 medium red peppers – cut in quarters
2 tablespoons of olive oil
1 cup raw walnuts
2 cloves of garlic
Juice of a medium lemon
1 teaspoon red pepper flakes
1 teaspoon cumin
½ teaspoon sea salt
¼ cup vegetable broth
¼ cup parsley – finely chopped
Extra olive oil and chopped walnuts for topping
Direction:
Preheat the oven to 400 degrees. Line a baking sheet with parchment paper and set aside.
Coat the red peppers with olive oil, spread on the baking sheet, and roast for 40 minutes. They will look blackened with some blisters. Remove them from the oven and let them cool down.
Peel the skin of the red peppers. Add them to a high-speed blender or a food processor along with the walnuts, garlic, lemon juice, red pepper flakes, cumin, sea salt, and vegetable broth. Mix until the texture is creamy.
Taste and adjust the seasoning as desired.
Serve in a bowl, top with parsley, olive oil, and chopped walnuts. Pairs well with tortilla chips, crackers, or as a spread.
THE REAL FOOD FRIDGE - Natures Fare said: "[…] Learn more health and wellness tips from Karlene Karst. […]".