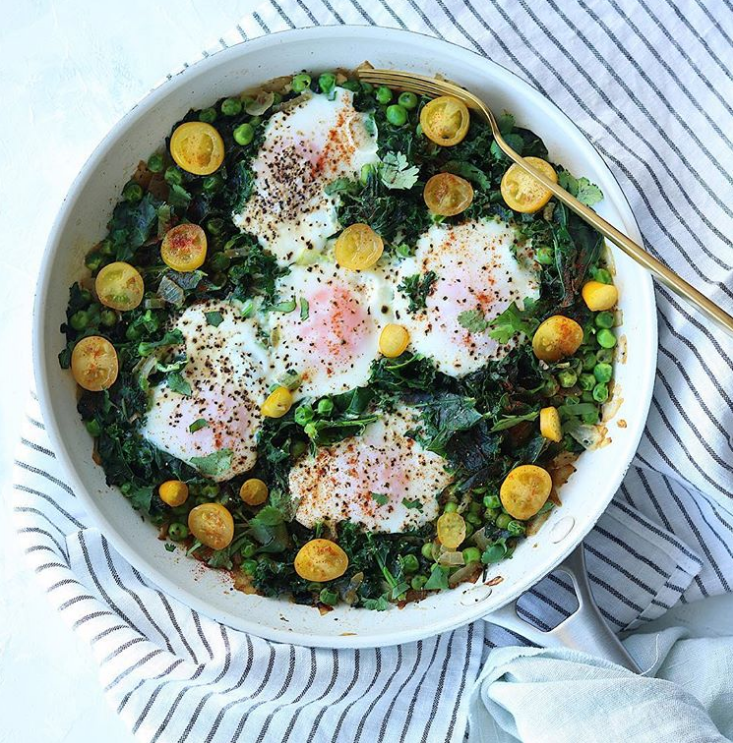 Prep Time: 15 minutes
Cook Time: 10 minutes
Servings: 5
Ingredients:
3 tablespoons extra virgin olive oil
1 small onion – diced
2 garlic cloves – minced
1 teaspoon salt
½ teaspoon black pepper
½ teaspoon cumin powder
1 cup frozen green peas – thawed
4 cups packed torn kale – stems removed
¼ cup chopped parsley
5 organic free range eggs
Optional toppings
Sliced mini tomatoes
Chopped parsley
Feta cheese
Chili flakes
Direction:
Heat the olive oil in a large frying pan over medium heat. Add onions and garlic and cook until soften, about 4 minutes.
Add salt, pepper, cumin powder, green peas, and kale. Stir and cook for 1 minute, add the parsley.
Make 5 small wells in the mixture with a spoon. Crack an egg into each well.
Cover and simmer until egg whites are set, about 4 minutes.
Serve with sliced tomatoes, parsley, feta, and a side of your favorite toast or baked potatoes.
THE REAL FOOD FRIDGE - Natures Fare said: "[…] Learn more health and wellness tips from Karlene Karst. […]".