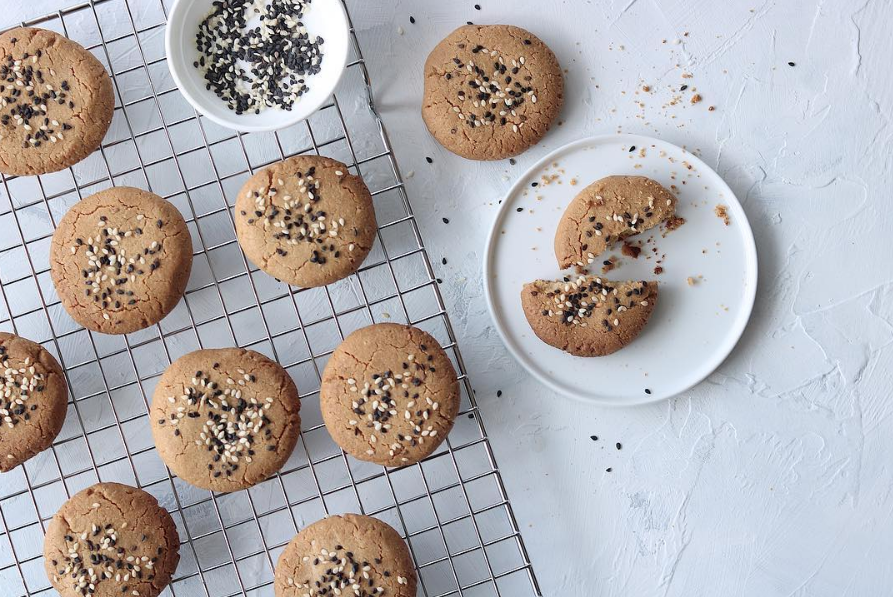 Prep Time: 5 min
Cook Time: 10-12 min
Servings: 12 small cookies
Ingredients:
1 cup almond flour
½ cup oat flour
1 cup tahini butter
½ cup maple syrup
1 teaspoon vanilla extract
pinch of sea salt
sesame seeds – enough for topping
Direction:
Pre heat oven to 350° F. Line a baking sheet with baking paper.
Place the tahini butter and maple syrup in a saucepan on medium heat. Stir it occasionally until it becomes smooth and has a runny texture.
Remove from the heat and allow to cool for 10 minutes.
In a medium bowl mix together the almond flour, oat flour, vanilla extract, and see salt. Add in the tahini mixture and mix until dough forms.
Using an ice-cream scooper or you hands form a 2-inch ball. Place the balls on the tray and flatten with a back of a measuring cup.
Sprinkle some sesame seeds on top of each cookie and press the seeds in the dough with the top of your fingers.
Bake in the preheated oven for 10-12 minutes, until the corners of the cookies are slightly golden brown.
Let the cookies cool for 10 minutes before serving.
Store the leftovers in an airtight container at room temperature for up to 3 days.
THE REAL FOOD FRIDGE - Natures Fare said: "[…] Learn more health and wellness tips from Karlene Karst. […]".