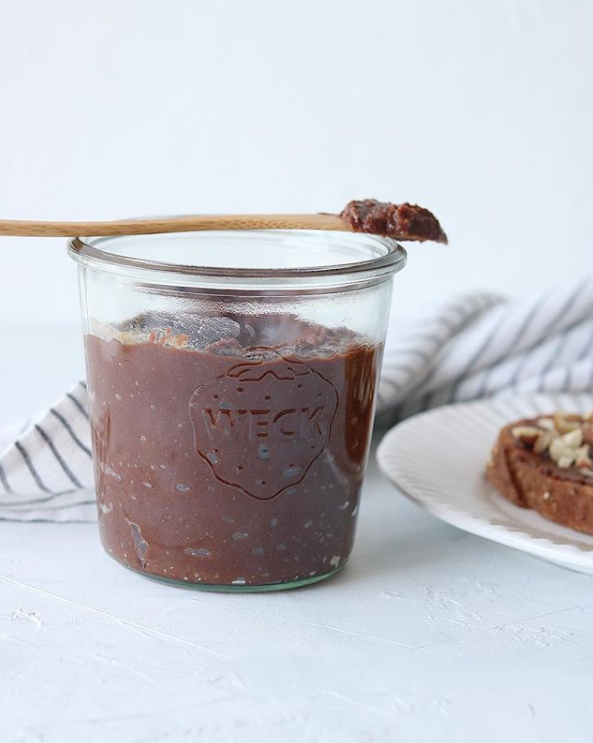 Prep Time: 15
Cook Time: 15 min
Servings: 2 cups 

Ingredients:
3 cups hazelnut




2 teaspoon Vanilla extract




¼ cup maple syrup




¼ cup cacao powder




¼ teaspoon sea salt




½ teaspoon stevia powder




4 tablespoon melted coconut oil, divided 



Direction: 

Preheat oven to 350° F. Line a baking sheet with parchment paper and spread the hazelnuts on the baking sheet. Roast for 13-15 minutes, shaking the pan every 5 minutes. 




When the hazelnuts are done roasting, allow to cool slightly, then transfer them to a clean kitchen towel.




In a kitchen sink over a colander, rub the hazelnuts between the kitchen towel vigorously for 3-4 minutes to remove any skins. It's okay if all the skins don't come off.




Transfer the hazelnuts to a food processor and process until they turn into a nut butter, turning off the machine a few times to scrape down the sides. 




Next add the vanilla extract, maple syrup, cacao powder, sea salt, stevia powder, and 2 tablespoons coconut oil. 




Continue to process until the mixture comes together, stop the machine and add one tablespoon of coconut oil at a time and re-process. Depending on the food processor this step will take about 5-10 minutes. 




The hazelnut texture will be smooth, but not liquid-y texture. You can taste test and if you would like more sweetness, add more maple syrup and process again. 




Transfer to a clean jar, once cooled store in the fridge for up to 3 weeks.
THE REAL FOOD FRIDGE - Natures Fare said: "[…] Learn more health and wellness tips from Karlene Karst. […]".